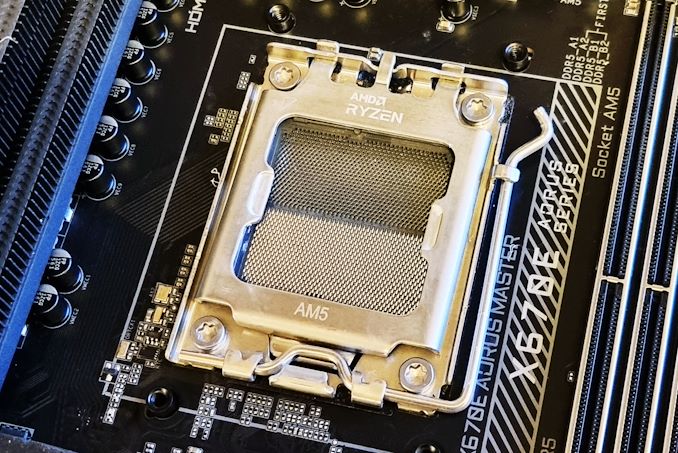 Here's the latest update to our list of recommended AMD motherboards in our series of motherboard buyers guides. All numbers in the text are updated to reflect pricing at the time of writing.
Best AMD Motherboards: Holiday 2022
It has been a busy couple of months for both Intel and AMD, as well as their partner motherboard manufacturers. The release of AMD's latest Ryzen 7000 series processors back in September marked the start of a new era for AMD and its AM5 platform – although AM4 isn't quite dead yet.
With the launch of Ryzen 7000 and AM5 comes support for DDR5 memory, which provides benefits to performance and gets AMD setup to use what is becoming the current generation of memory for the industry. But unlike Intel's 13th and 12th Gen Core series processors, AMD dropped any support for DDR4 memory, opting to fully focus on next-generation memory and the long-term prospects of the platform. This has meant that users looking to build a Ryzen 7000 system will not be able to recycle any DDR4 memory they already have, and instead will need to buy DDR5 to work with AM5.
Regardless of whether you're looking to build a new system or upgrade an older one, AMD has a wide range of processors to cover all use cases. Its AM4 platform has been a highly successful one for AMD, giving us the likes of Ryzen 1000 (Zen), Ryzen 2000 (Zen+), and even Ryzen 3000 (Zen 2) and Ryzen 5000 (Zen 3). With the launch of Ryzen 7000 processors to the market, it has delivered better performance in applications, content creation, rendering, and gaming than it ever has before. So while no longer the new and shiny thing from AMD, AM4 is still a viable platform and will remain so for well into 2023.
Given that AMD is in the midst of this transition, for our latest buyers guide we have opted to split our selections between AM4 and AM5. Despite Ryzen 7000 dominating performance charts, there is still quality and value to be found from AM4, especially at the lower end. So without further adu, here are our picks for AMD motherboards for the 2022 holiday period.
Looking for our best Intel motherboard choices? Head on over to our Intel Motherboard Buyers Guide instead!
AMD Motherboards Recommendations
Holiday 2022
AnandTech
Motherboard
Amazon
Newegg
MSRP
AM4
Sweet Spot (Gaming)

MSI MPG B550 Gaming Edge WIFI

$200
$200
$200
Value Choice
ASRock B550 Phantom Gaming 4/AC
$130
$95
$125
Mini-ITX
GIGABYTE B550I Aorus Pro AX
$200
$200
$200
AM5
Performance (Gaming)
GIGABYTE X670 Aorus Elite AX
$320
$290
$330
Money No Object
MSI MEG X670E Godlike
-
$1300
$1300
Our recommendations for motherboards are based entirely on my personal and professional opinion.
For our holiday 2022 picks, we've considered updated pricing as well as availability in the US. Some of these models are slightly adjusting in stock levels and price, so we've adjusted our guide to accommodate this.
AM4 & AM5 Motherboards: We've Made Selections For Both Platforms
Since the launch of AMD's Ryzen 7000 series, it has been noted widely that there is very little in terms of 'value' to be found from the AM5 platform. One of the reasons is the additional expense that DDR5 brings to the table, and in reality, there are slim pickings on good deals for AM5 motherboards, even from the cheaper B650/B650E series models.
Because of this, we've decided to include viable selections from AM4 in our guide, as there is much more value overall to be found for users on a strict budget. The essence of value from the AM4 platform comes from a mixture of DDR4 memory which is cheaper than its newer DDR5 counterparts, as well as motherboard availability; AM4 has been out for quite a while now so there are much better deals to be found online.
However, we have made a couple of AM5-based selections in relation to performance/gaming at a good price, as well as our money-no-object selection.
For users looking for other options, we've also gone over multiple chipset families as well in the links below.
Sweet Spot For Gaming (AM4)
For our pick that represents what we think is the best sweet spot for gamers taking into account things like features, DDR4 memory compatibility, and pricing, we've opted to go for a mid-ranged B550 model from MSI. The MSI MPG B550 Gaming Edge WIFI sits just below its premium B550 Gaming Carbon WIFI board but comes with a range of features such as 2.5 GbE, WI-Fi 6, and a decent Realtek ALC1200 HD audio codec.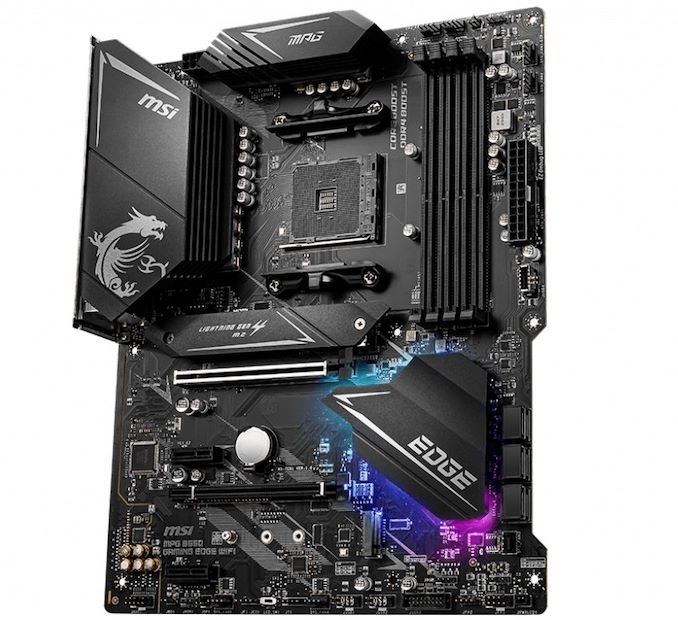 Looking at what makes the B550 Gaming Edge WIFI our pick for August, it has a simplistic black aesthetic with silver accents on the heatsinks, with integrated RGB LEDs within the chipset heatsink. There's plenty of PCIe expansion support with one full-length PCIe 4.0 x16 slot, a full-length PCIe 3.0 x4 slot, and two PCIe 3.0 x1 slots. For storage, the B550 Gaming Edge WIFI includes two M.2 slots with the top slot operating at PCIe 4.0 x4, and the second slot limited to PCIe 3.0 x4, while six SATA ports are present which support RAID 0, 1, and 10 arrays. MSI includes support for fast DDR4-5100 memory and allows users to install up to 128 GB of system memory across four memory slots.
The MSI MPG B550 Gaming Edge Wifi has an MSRP of $200 and represents its more mid-range AM4 series aimed at gamers. At present, Newegg is selling this model for $200, while it's also at Amazon for $200. MSI has included some premium components including a Realtek RTL8125B 2.5 GbE Ethernet controller, with an Intel AX200 Wi-Fi 6 CNVi offering decent wireless networking compatibility, as well as support for BT 5.0 devices. Overall the MSI MPG B550 Gaming Edge WIFI has plenty of features to satisfy gamers, it features overclocking support with Ryzen 5000/3000 processors, and brings enough to the table to make it a solid option for gamers looking for a more cost-effective gaming system with support for DDR4 memory.
The Value Option (AM4)
In previous guides, the value options have mostly been B-series models, and nothing has changed here as there is much value from AMD's B550 chipset due to its support for features such as overclocking. As we've highlighted throughout, there is still value at the lower end with processors such as the Ryzen 5800X3D with its exceptional gaming performance. With price drops across the board on Ryzen 5000 processors in today's current financial climate, AM4 is still the go-to value chipset for users wishing to opt for AMD. For this reason, we've chosen the B550 Phantom Gaming 4/AC, which represents ASRock's entry-level gaming series as well as support for PCIe 4.0 devices.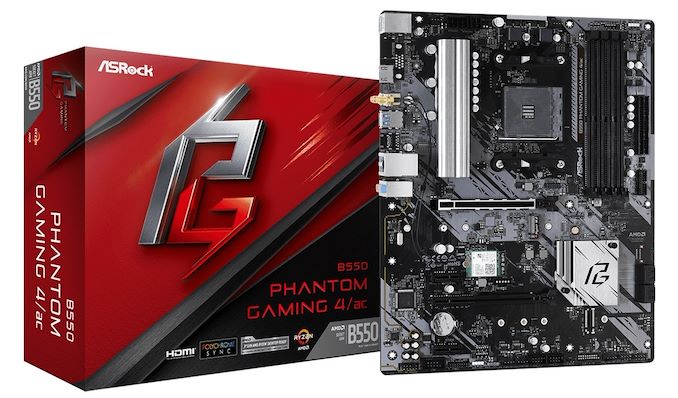 Even though it is one of the cheapest B550 boards, ASRock's B550 Phantom Gaming 4/AC offers a competitive entry-level feature set. The board comes with a PCIe 4.0 x4 M.2 slot and augments that with four SATA ports, which is plenty of capacity for game storage. The top full-length PCIe 4.0 slot operates at x16, while the bottom slot is locked to PCIe 3.0 x4, which is controlled by the chipset, along with two additional PCIe 3.0 x1 slots. For networking it is using a standard Realtek based Gigabit Ethernet controller, along with an Intel Wi-Fi 5 interface. This is pretty standard for an entry-level model that focuses more on overall support than adding extra cost at the expense of premium controllers. The B550 Phantom Gaming 4/AC is also using a Realtek ALC1200 HD audio codec but with just three 3.5 mm audio jacks on the rear panel and a basic 8-phase power delivery.
The ASRock B550 Phantom Gaming 4/AC is currently available for an amazing price at Newegg for $95 which is the lowest we've seen this model. Amazon also stocks this model, but it's more expensive at a cost of $130, so we recommend users purchase this model at Newegg. At $95, this price makes it one of the best-value AM4 models currently on the market in terms of features, specification, and price. Looking at the bigger picture, most of the PG4/AC's competition comes from the cheaper selection of A520 boards with the majority of these based on the smaller micro-ATX form factor, with limited expansion options. Meanwhile, the biggest competition from the X570 product stack is arguably ASRock's own X570 Phantom Gaming 4S model, which is currently available at Newegg for $140.
Mini-ITX Choice To Consider (AM4)
There are an impressive array of Mini-ITX AMD boards to choose from, especially on AM4, but the same cannot be said for AM5 at present. Due to this, our pick for the best mini-ITX motherboard at present remains unchanged, and that is GIGABYTE B550I Aorus Pro AX. The Aorus Pro AX represents a solid premium offering, with official PCIe 4.0 support, two M.2 slots, a Realtek 2.5 G Ethernet controller, and an Intel Wi-Fi 6 interface, all at a solid price point.
You can read our full review here:
The GIGABYTE B550I Aorus Pro AX Motherboard Review: All The Small Things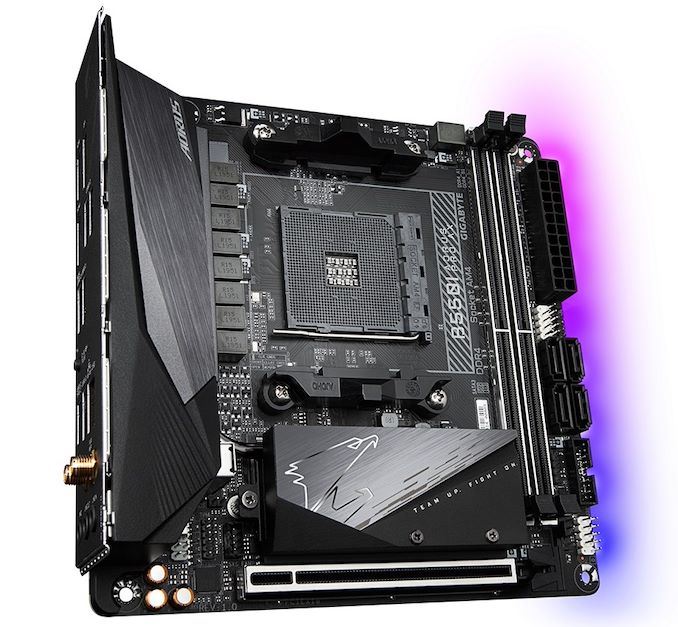 The GIGABYTE B550I Aorus Pro AX has four perpendicular SATA ports, one PCIe 4.0 x4 M.2 slot, and an additional PCIe 3.0 x4 M.2 slot with a full-length PCIe 4.0 x16 slot. In terms of power, the GIGABYTE B550I Aorus Pro AX has a direct 8-phase power delivery with eight premium Intersil ISL99390 90 A power stages and is controlled by an ISL229004 PWM controller. This is impressive not only for a mini-ITX motherboard but one designed for the 'budget' B550 chipset.
Focusing on connectivity, this board has dual HDMI 2.0 outputs as well as DisplayPort 1.4, a single Realtek RTL8125BG 2.5 GbE controlled Ethernet port, and an Intel AX200 Wi-Fi 6 interface. There are also plenty of USB ports to make use of, with one USB 3.2 G2 Type-C, one USB 3.2 G2 Type-A, and four USB 3.2 G1 Type-A ports, as well as a handily located Q-Flash firmware update button. In an upgrade to supported memory for B550, the B550I Aorus Pro AX also supports up to DDR4-5300 memory.
The GIGABYTE B550I Aorus Pro AX has an MSRP of $200 and Newegg has it for $200 currently, while Amazon has it for the same price at $200. Although the pricing on this model fluctuates week by week, we consider this board to represent good value for money between the $190 and $225 price mark, with stern competition from ASRock's $200 premium B550 ITX board or ASUS's also-$200 B550 mini-ITX offering. Out of all of the AM4 mini-ITX models on the market, some X570 models include Thunderbolt 3 – notably the ASRock X570 Phantom Gaming-ITX/TB3 – but it does cost more with an MSRP of $240. Overall the GIGABYTE B550I Aorus Pro AX is our top mini-ITX pick out of all the AMD AM4 models when taking quality, feature set, and pricing into consideration.
Performance/Gaming Choice to Consider (AM5)
Moving onto our AM5-based picks specifically designed for AMD's Ryzen 7000 series of processors, all of the AM5 motherboards from the top of the range X670E down to the 'budget' B650 models, only feature support for DDR5 memory.
When it comes to wanting to harness the power of AMD's Zen 4 core based on TSMC's 5nm node, then AM5 and DDR5 are the minimum requirements. With lots of different motherboards currently on AM5 including the top-tier X670E with PCIe 5.0 PEG and M.2 slots, down to X670 that uses PCIe 4.0 for the PEG slot, but offers one PCIe 5.0 x4 M.2 slot, there's a lot to pick from. For gaming and general performance, we've opted for the reasonably priced, yet feature-packed GIGABYTE X670 Aorus Elite AX.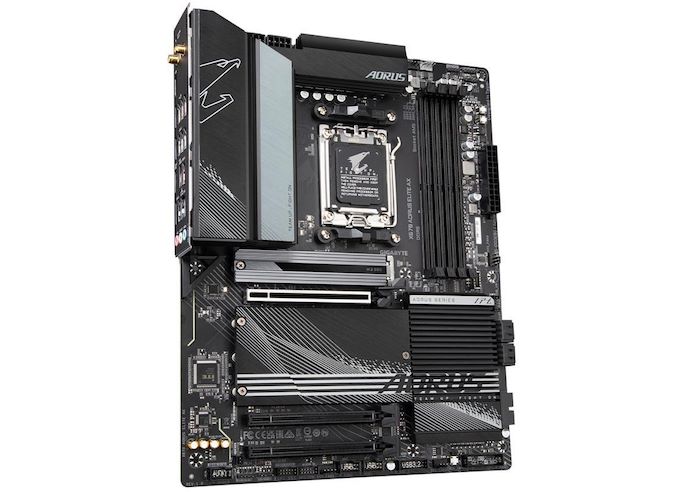 Deciding against the X670E platform with the PCIe 5.0 PEG slot, at present, there are no graphics cards that will benefit from this extra bandwidth; even the latest NVIDIA GeForce RTX 4090 is CPU-bound in most cases as has been reported by various outlets. Explaining more about why I've opted to go for the GIGABYTE X670 Aorus Elite AX, it has a pretty solid feature set, with a Realtek-based 2.5 GbE controller and an AMD RZ616 Wi-Fi 6E wireless interface offering access to the 6 GHz band as well as BT 5.2 connectivity.
In terms of connectivity, the X670 Aorus Elite AX has three full-length PCIe slots to utilize. Going from top to bottom, there is one full-length PCIe 4.0 x16 slot which benefits from metal armor reinforcement, while the second slot is electronically locked to PCIe 3.0 x4 and the bottom slot PCIe 3.0 x2. This is still plentiful for most add-in cards such as streaming devices and external audio controllers. Touching on audio, the GIGABYTE is using a Realtek ALC897 which is quite outdated, but it is still capable and the expansion slots allow users to use more powerful and quality DACs.
For storage, there's plenty for users to appreciate, with one PCIe 5.0 x4 M.2 slot for the new SSDs expected in the next couple of months, as well as three PCIe 4.0 x4 M.2 slots and four SATA ports. Memory compatibility is also impressive, with support for up to DDR5-6666 and a total of four slots capable of housing 128 GB. On the rear panel, GIGABYTE includes one USB 3.2 G2x2 Type-C, two USB 3.2 G2 Type-A, six USB 3.2 G1 Type-A, and four USB 2.0 ports, which are plentiful. As the Ryzen 7000 series now includes integrated graphics, GIGABYTE includes a single HDMI video output.
Focusing on pricing, the GIGABYTE X670 Aorus Elite AX has an MSRP of $330, while Amazon has it for $320, and Newegg has it for a much better price of $290. Making our assessments based on the $290 pricing, the Aorus Elite AX AM5 model has plenty going for it in terms of connectivity, storage support, and memory compatibility. It has everything needed to get the performance benefits out of Ryzen 7000 without breaking the bank on over-the-top power deliveries or expensive controller sets. That brings us to our final pick...
Money Is No Object Selection (AM5)
MSI MEG X670E Godlike (N/A at Amazon/$1300 at Newegg)
When it comes to my money-no-object pick from all of AMD's available motherboards, I've typically gone for flagships with oodles of features. Despite the distinct lack of 'value' in these selections, I've opted for arguably perhaps one of the most premium desktop models ever created, the MSI MEG X670E Godlike. Going for such an expensive motherboard as this, isn't just about performance, because processors and motherboard vendors squeeze all of the performance out on the entry-level models these days. Opting for a flagship is about the overall package, extravagant looks, highly premium designs, and top-of-the-range controller sets and I/O configurations, and the Godlike certainly delivers a solid premium package.
So some of the aspects that make the MSI MEG X670E Godlike a solid flagship offering include a large 24+2 phase power delivery with 105 A smart power stages, as well as support for up to six M.2 drives; some come via the included M.2 XPANDER-Z Gen5 add-in card which allows users to use two PCIe 5.0 x4 M.2 SSDs. It also features a classy dual black tone across its body, with MSI M-Vision 4.5 inch touchable LCD panel which adds an extra element of style.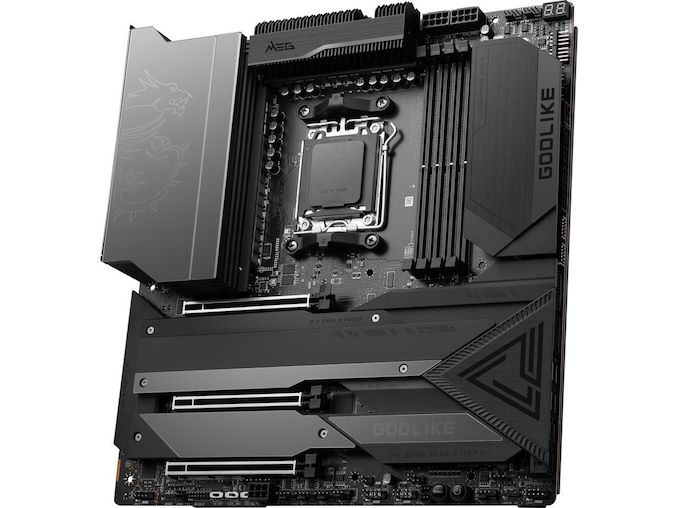 Focusing on the features of the Godlike, MSI includes support for DDR5-6666 memory, with four slots available and supporting up to 128 GB. Going more into the storage capabilities, as we mentioned, the Godlike can support up to six M.2 drives. This includes one integrated PCIe 5.0 x4 slot, three PCIe 4.0 x4 M.2 slots, and two PCIe 5.0 x4 M.2 slots available with the XPANDER-Z Gen5 add-in card included in the accessories bundle. In addition to M.2 support, the Godlike has eight SATA ports with support for RAID 0/1/10 arrays.
Onto the controller set and I/O, the X670E Godlike is packing plenty for content creators, gamers, and enthusiasts. Despite omitting any Thunderbolt 4 connectivity, there are two USB 3.2 G2x2 Type-C and seven USB 3.2 G2 Type-A on the rear panel, with front panel headers offering a further one USB 3.2 G2x2 Type-C, four USB 3.2 G1 Type-A and four USB 2.0 ports.
In terms of networking, the Godlike has aplenty with one Marvell AQC113CS-B1-C 10 GbE controller, with a secondary Intel I225-V 2.5 GbE controller and an AMD Wi-Fi 6E wireless interface providing both high-end Wi-Fi and BT 5.2 device support. Onboard audio is also premium with a Realtek ALC4082 HD audio codec taking precedence and an ESS Sabre ES9280AQ DAC with support for HPA amplifiers which adds an extra dimension to what most motherboards offer at retail.
Going for a motherboard with so much in terms of features, quality, and pizazz does come at a price, as the MSI MEG X670E Godlike has an eyewatering MSRP of $1300; if you want the most feature-packed and up-to-date solution, unfortunately, this is the current trend in regards to flagship motherboard pricing. Of course, if money is no object, and the best is desired, then, in my opinion, the Godlike is the 'god' of AM5 right now.
Recent AMD Motherboard Reviews at AnandTech